I have to say that I'm sorry how it ended Forspoken after its release. I remember the great hype that aroused me when it was released for the first time and I find it incredible how everything has changed. I am not exaggerating when I say that after its playable demo was released, it was a large part of the community that was disappointed with the state of the game.
And beware, by this I don't mean that the game was badly developed, but that the expectations with it were very high and finally, it fell well below expectations. The fact that it has not met the expected expectations has led the Luminous Productions game to failure and, consequently, the developer is forced to make decisions.
Luminous Productions says goodbye after the release of Forspoken
The numerous bad reviews and the low marks that Forspoken received have pushed its developer to decide to put a point and end in his solo path. ❌
And I say solo, because Luminous Productions disappears as such and will become part of Square Enix as of May 1. 👍
Even so, Forspoken will continue to improve for the gaming community. ✅
You will also receive a DLC called 'In so much we trust', of which the date on which it will be released is still unknown. ⭐
Forspoken, the failure of a death foretold
Sadly, the failure of this new IP it was something that was seen coming since the community began to enjoy its first minutes of play. This does not take away from the fact that there are players who are enjoying this experience. But it is clear that not everything has turned out as expected.
REDUCED EUR 20.00
Forspoken – PS5
A Beautiful and Cruel Open World: Explore the vast kingdoms of Athia, a world filled with incredible landscapes and supernatural creatures A world filled with incredible landscapes and supernatural creatures brought to life by stunning graphics and cutting-edge technology.
This decision has been published by the developer of Luminous Productions itself through his official Twitter account. By joining Square Enix, they will continue to work tirelessly to bring high-quality games to gamers. The developer has also greatly appreciated all the support received during this time.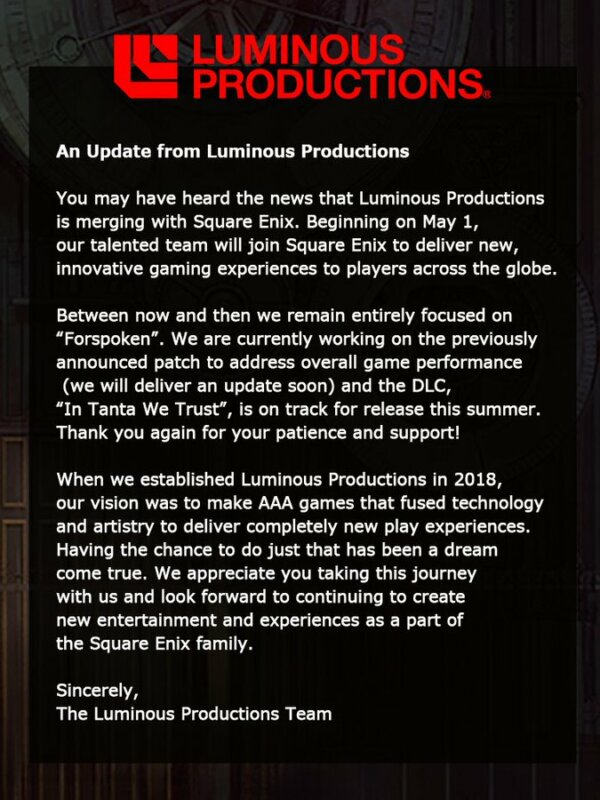 And to you? Did you like Forspoken or were you disappointed? The truth is that it is a shame that there are developers who have to make this type of decision after not reaching the objectives.